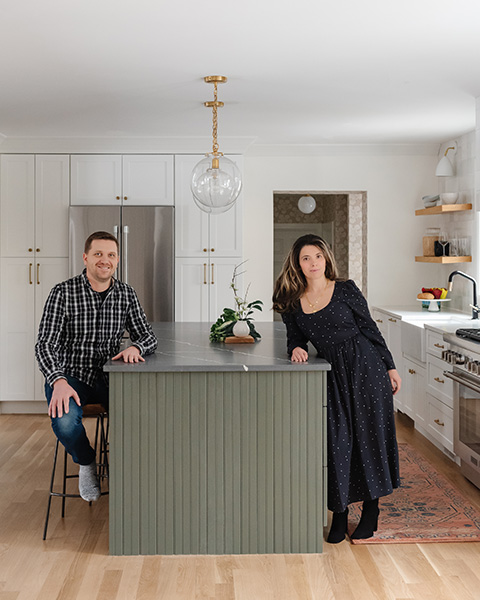 MIF Design is a full-service design and build firm based in Ridgewood, NJ. The MIF team is led by a husband and wife duo who are simultaneously obsessed with each element of the both the build and design phase.
We excel at delivering custom-crafted builds and remodels — from blueprint plans to final designs. We uniquely own every step of the process — from finding the right homes for our clients to remodel, to building homes from the ground up, to overall project management and all the shiny finishes and materials that are truly unique to each project. We operate seamlessly across a team of trusted tradesmen to deliver curated craftsmanship, underpinned with a simplified and (dare we say) fun experience.
We truly love understanding what matters most to our clients and translating that into spaces that fit their needs, dreams, and lifestyles.
Whether you are building a home from the ground up, remodeling an existing home or need help re-imagining your family's most lived-in spaces, MIF Design marries function and beauty to make every home a reflection of the people who live in it.
---
From Our Clients
"Working with Yana and Mike was one of the most enjoyable experiences of our lives and in the end we got the house of our dreams. They understood our aesthetic and vibe right from the start and made our visions a literal reality. Yana's sense of style and design combined with Mike's attention to detail and craftsmanship made for the most amazing team."
Nicole & Mark
Wyckoff NJ
"We are so lucky we found MIF. A truly all-in-one shop. Yana's eye for design and Mike's attention to detail are the perfect combo. They delivered on time and budget. Forever thankful."
Maria & Jon
Woodcliff Lakes NJ
"MIF discovered an amazing fixer-upper property for us, and then transformed it into the home of our dreams. The timeline from planning, to permits, to project completion went seamlessly. When it came to design and details, MIF did the hard work for us by providing stylish, high-quality, budget-friendly options to choose from. Yana, Mike and the MIF team went above and beyond to deliver us our perfect home. We are grateful we worked with them and recommend them to anyone and everyone."
Mahdi & Beth
Ridgewood NJ